British Land

|

Our purpose is to create and manage outstanding places which deliver positive outcomes for all our stakeholders on a long term, sustainable basis.
Who we are
We are a FTSE listed business with a strong balance sheet and £13bn of assets under management. But with just 600 employees you're given the ability to make a big impact and elevate your career quickly. Our diverse, passionate team of experts works on some of the most ambitious, innovative and sustainable projects in the country – from our high-quality campuses across central London, to some of the top retail schemes in the UK – providing a rewarding career journey where you can shape how you grow.
We believe in shared success and enabling people to be themselves. If you want to feel listened to and understood in an environment where your opinions count and bright ideas are encouraged, you've come to the right place!
In our recent engagement survey 93% of our employees stated they were proud to work for
British Land!
Culture and values
Celebrating diversity. To achieve our purpose, we strive to create a diverse and inclusive workplace where people can achieve their full potential
"Bring your whole self" is a core value of British Land; we understand that diversity of backgrounds promotes diversity of thought and enhances our business.
Our diversity, equality and inclusion mission is to make a positive difference to colleagues, communities and the wider industry by taking actions to promote equality. We consider all areas of diversity by working in close collaboration with our employee networks, who represent our people and are a voice for change.
In the past decade, we have made great progress in making British Land a more diverse and inclusive business generally, but we recognise that there is more work for us to do, particularly when it comes to race equality.
With the help of our networks and committees, we have worked hard to create a culture of support and understanding for all our employees. Our Wellbeing Committee leads the way to support employees' physical and mental health
Like our customers, many employees wish to work more flexibly to better balance their personal and professional lives. To accommodate this, we ensure that all our employees have the technology to work flexibly. Our Parents and Carers Network has guided the business to help and support parents and those managing caring responsibilities whilst working from home, advocating flexibility and understanding.
Our ESG Committee has guided and supported all our workforce engagement activities, such as our check-in surveys and wellbeing survey. By having a dedicated Committee with formal responsibility for the engagement of our employees, our people always remain central to our strategy.
Benefits
Our People – Just ask anyone why they love working here and they will tell you it's the people. They're highly talented, passionate, and collaborative! We thank our people with rewards that feel rewarding; you can review our market leading benefits here.
Our recruitment process
If you enjoy bringing your whole self to work, share our values and are excited about our purpose we'd love to hear from you! We are committed to providing an accessible and inclusive process learn more about our selection process here
Equality and diversity
'Bring your whole self' is one of our four company values. We are free to be ourselves at work and help others to feel the same. We bring all our passion and energy to what we do and are open and inclusive.
At British Land we celebrate inclusivity as part of our culture. It means that the people who work for British Land can bring all their passion and energy to what we do, that we attract and keep great talent, and that our places appeal to a broad range of customers.
We are committed to improving the diversity and inclusivity of our team, so that we reflect and understand the people who work, shop, live and spend time at our places. It takes diversity of thinking, cultures, backgrounds and perspectives to create Places People Prefer.
Our leaders speak publicly and often about the importance of inclusivity, as part of our efforts to drive wider change. We champion equal rights for everyone and support a range of initiatives to nurture diversity across our sector and in the communities we serve.
Our strategy is aligned to the United Nation's sustainable development goals – a framework to tackle social and environmental challenges.
Wellbeing
Our vision is of happier and healthier colleagues, with creative communication strategies to ensure people are well-informed about wellbeing, including a benefit information portal.
Our achievements 2021/22
British Land has long provided health related benefits, including private medical insurance, annual health screening and corporate gym membership but alongside that, the Wellbeing Committee have and will continue to do so, enhance employee support and wellbeing through a number of initiatives led by the committee. To date, these include:
We created a wellbeing room, where people can rest and recharge
Annual wellbeing awareness week
Hosted the John O'Halloran Symposium 2019: Positive Mental Health in Property
Mental Health First Aid Training for staff within the business across the UK
Take to Your Feet Walking Challenge (Every May!)
Mindfulness Sessions with Ian Currie
Mates In Mind with Stephen Haynes supporting Mental Health Wellbeing
Suicide Prevention Strategy for the business
Suicide Prevention Training for all staff and contracted staff across our assets
Land Aid 10k Run 2022 supporting Physical Wellbeing
"We provide an internal network to help promote a workplace that encourages health, happiness and fulfilment. This creates an environment for our colleagues and the business to be at their best." Alan Barker, Chair, Wellbeing Committee
Our 2022/23 targets include
Understanding what all colleagues' working environments are like and whether they satisfy requirements.
Continue developing a Mental Health and Wellbeing Policy and working towards a mental health audit.
Identifying apps to support wellbeing that can be rolled out to our colleagues
Mental Health First Aid Training for staff (30 places this year!)
Promote Physical Wellbeing through 'Take to Your Feet' Month in May & LandAid 10K
A Focus on Physical Wellbeing & Financial Wellbeing
NEOM Sessions for Sleep Therapy and Relaxation
Deskercise Sessions with Alex Reid (from September 2022 to January 2023)
Collaboration with other Networks to deliver events
Teenage Mental Health Support in collaboration with Parents & Carers Network
To deliver a suite of tools and advice to all staff for Financial Wellbeing Support
To ensure that MHFA is a core training requirement at the point of commencing new contracts with soft services providers across all our UK assets
Personal development
Before we invest in our places we invest in our people. All of our employees are supported in their learning and professional development. Our commercial property scheme supports graduates to become accredited by the Royal Institution of Chartered Surveyors (RICS) and gain their Assessment of Professional Competence (APC). As well as receiving support through our in-house training programmes we provide:
Up to two annual subscriptions per annum
Personal Development plans tailored to your training needs
Opportunity for educational support (with business case approval)
Inhouse lunch and learns
Support from our employee network such as NextGen, supporting those new to property
Mentor and Mentee schemes
Opportunities for inhouse and external secondments
Sustainability
The three pillars of our 2030 sustainability strategy are Greener Spaces, Thriving Places and Responsible Choices.

Sustainability is fundamental to our business at British Land. The decisions we make are environmentally and socially intelligent, as well as making sound financial sense. This is central to creating Places People Prefer.

We continue to make great progress towards the targets set out in our 2030 Sustainability Strategy. Visit Performance to find out more.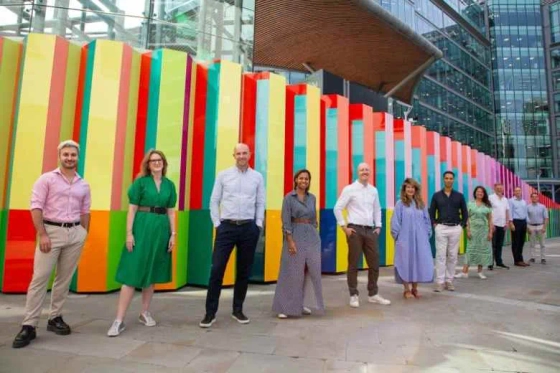 We aren't currently hiring
Follow us to be notified as soon as we post new jobs & opportunities.