Capgemini is a global leader in consulting, digital transformation, technology and engineering services. The Group is at the forefront of innovation to address the entire breadth of clients' opportunities in the evolving world of cloud, digital and platforms.
Who we are
Are you ready to take on the challenge? Helping our clients grow while building a more sustainable, more inclusive future is a tough ask.​ But when you join Capgemini, you join a thriving company and become part of a diverse global collective of free-thinkers, entrepreneurs and industry experts who are all driven to use technology to reimagine what's possible.​ Together, we work to transform the world's leading businesses while sharing knowledge and pushing ourselves to do better. It's how we shape great careers and give innovation that human touch the world needs.​
As a global powerhouse in consulting, digital transformation, and cutting-edge technology and engineering services, we don't just follow trends – we start them. Imagine yourself at the forefront of innovation, poised to tackle the dynamic expanse of opportunities that the ever-evolving realms of cloud, digital landscapes, and platforms present. Embarking on this exhilarating journey with us means more than just a job. It's a commitment to nurturing growth, crafting a sustainable future, and fostering inclusivity, all while pushing the limits of what's attainable.
You will embark on our 2 year-Empower Programme, focused on giving you the impact skills you need for your future. In your learning pod, you will explore your career aspirations, develop your emotional intelligence, tackle innovation challenges from our executive team, and refine your communication skills. Our programme is designed to help you make a real impact on our business and create opportunities for you to shine.
You will also benefit from learning for life with Capgemini's unique and innovative L&D offering. This is driven by our digital learning platform 'Next' and our 'Learning for all' mindset.
Equality and diversity
We're breaking down barriers to a better future.
At Capgemini, we believe a workplace where everyone feels valued for who they are isn't just a powerful moral responsibility – it's also a source of competitive advantage. By having a diverse workforce that represents our society, and by fostering an inclusive culture, we're building a place where our people can thrive.
That's why we're working with global and local organisations and our own employees to ensure we create equal opportunities for all, address bias in the workplace, and equip all our managers with the skills to be truly inclusive leaders.
As part of our Environmental, Social and Governance policy, we have set global Group objectives to reach:
40% of women in our teams by 2025
30% of women in executive leadership positions in 2025
Approach to ESG
There has never been a better time to leverage technology and human capabilities to tackle Environment, Social and Governance challenges.
ESG is embedded in our corporate strategy focusing on eight priorities material for a shared success
We aim to be the cornerstone of our ecosystem for lasting positive ESG impacts. Leveraging the spirit and energy of Capgemini teams, and using our operational excellence, innovative assets, and added-value partnerships, we continually increase our ESG performance and develop solutions and services to substantially improve the environmental performance of our clients.
Therefore, we focus on eight material ESG priorities that have significant positive impacts on Capgemini's business model and value drivers, as well as for our stakeholders.
Our eight priorities
Environment
Priority A: Act on climate change by being carbon neutral by 2025 and becoming a net zero business
Priority B: Lead to low-carbon economic transition by helping our clients achieve their environmental commitments
Social
Priority C: Relentlessly invest in our talent through a unique experience developing tomorrow's skills
Priority D: Enhance a diverse, inclusive and hybrid work environment
Priority E: Support Digital Inclusion in our communities
Governance
Priority F: Foster a diverse and accountable governance
Priority G: Maintain high ethical standards at all times for mutual growth
Priority H: Protect and secure data, infrastructure and identity
Recruitment process
Tips from Capgemini UK for Students
Capgemini's recruitment process includes a short application, a digital interview and assessment centre. The digital interview is an opportunity for us to learn more about you and your interest in Capgemini and the area that you have applied to. Therefore, you should expect questions around what Capgemini does, your motivation for joining and specific questions around the role or area that you have applied to. This stage is a pre-recorded set of questions which enables you to interview at a time that works best for you.
Questions may include "Why does this graduate programme or role excite you?" and then role specific questions such as "please share a situation where you have solved a problem using technology?" or what experience do you have with certain technologies.
At an assessment centre, you would take part in a group exercise and a 1-1 interview. In the group exercise you should expect to solve a task as a group and be assessed on strengths such as working well in the team and your involvement in the task which could include leading the group, managing the time, or coming up with ideas. In a group exercise if you don't contribute, we can't score you against the criteria we are assessing, so get involved! If you are naturally more outgoing, then bring in quieter members of the group to the conversation.
For the interview you will be asked strengths-based questions around your motivations, skills, strengths, and role suitability. You should prepare for questions such as "What motivates you to get a career in ____?", or "How will this role play to your strengths?". This focuses on your future potential rather than experience and it is a good idea to talk about any self-development, activities and interests that might be relevant to the role and demonstrate your strengths.
Interviewers want to get to know you, why you're passionate about the area you have applied to and why you want to work for their company. Always do your research before attending an interview, you should research the companies' purpose and values, their social media accounts, and their website. Any information that you can find, and you can then showcase, will help you stand out. You can also talk about any transferrable skills you have such as communication and teamwork, or any communities you're a part of or areas where you can demonstrate your interests to stand out.
The interview is a two-way street, it's also your opportunity to make sure it's right for you! Try and prepare at least 2 questions to ask the interviewers at the end. A good question could be asking about challenges and opportunities they may have faced in their career or what the training and development opportunities are.You could also ask the interviewer "What are the best things about working here and what is the culture like?". This gives you an opportunity to hear first-hand about the company and area you have applied to and tap into their experience and knowledge.
We are proud to work with MyPlus
MyPlus helps students and graduates with disabilities land their dream job. Everything from essential advice to employer contacts all in one place.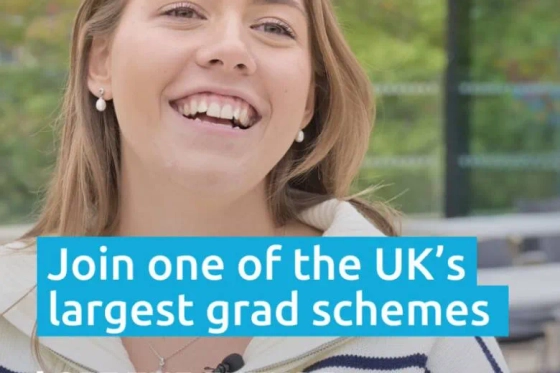 We aren't currently hiring
Follow us to be notified as soon as we post new jobs & opportunities.