Neurodiversity-friendly graduate employers and how to find them
Last updated: 4 Jul 2023, 09:08
Discover companies that are particularly supportive of neurodivergent employees and the answers to your questions around job-hunting and neurodiversity.

Employers are increasingly aware of the value in having a diverse workforce and bringing in different ways of thinking. This is why they are keen to attract students and graduates from across the neurodiversity spectrum: this includes (but is not limited to) people with ADHD, dyslexia, dyspraxia and people who are on the autism spectrum.
As a neurodivergent student or graduate, you might have some questions about job-hunting that your neurotypical peers might not. In this article, we talk to employers about the support they have in place for students and employees across the neurodivergent spectrum. We also answer some frequently asked questions that neurodivergent students and graduates have about approaching the job hunt and career success.
Jump to:
Neurodiversity-positive employers: how they support and attract non-neurotypical job seekers
Below is a select number of employers who gave us insights into what support they have put in place for non-neurotypical candidates and employees. However, this is just to provide a sense of some of the support available. Do not feel you should limit your search to these employers.
GCHQ
A GCHQ spokesperson tells targetjobs...
'Some of our most talented and creative people have a neurodiverse profile – from people with autism spectrum conditions to dyslexia, and from dyscalculia and dyspraxia. Our apprentices, for example, are three to four times more likely to have dyslexia than the national average. For the last 20 years we have had a specialised neurodiversity support service, with specialist neurodiversity advisers, who offer awareness sessions for managers, as well as training so that managers can help staff with any adjustments they need to reach their full potential. The service is there to provide those staff with neurodiverse conditions the support they might need in the workplace. It aims not just to overcome problems, but also to enable people with these conditions to work to their best ability.
Examples of adjustments to the interview process we have made include:
Allowing the bringing of notes and mind maps into interviews
Having extra time to compensate for slower processing speed
Ensuring candidates aren't being asked multiple questions at the same time
Using a whiteboard or flipchart to 'car park' questions to return to later.
Typical workplace adjustments we have made include:
Mind-mapping software
Noise-cancelling headphones
Voice to text/text to voice software
Onscreen reading rulers
Offering different ways of working, such as changes in working patterns.
The progress made in making GCHQ accessible has been recognised through external accreditation such as Disability Confident, where GCHQ has attained Leader [the highest] status, and the Dyslexia Smart Award from the British Dyslexia Association.'
Find out more about GCHQ application process and what to expect from your career there .
KPMG
Madeline, student recruitment assistant manager, told targetjobs…
'At KPMG, we absolutely welcome applications from neurodivergent candidates. Our firm is committed to creating an inclusive environment where all colleagues can thrive and reach their full potential, whatever their identity or background. This is fundamental to our success as a business and in our journey to helping to create a fairer future for all. It's really important that we have a diverse team at KPMG so that we can be a true representation of the communities we serve.
My experience is that KPMG is an incredibly supportive, open and inclusive place to work. We're recognised as a Disability Confident Leader. This means we have committed to ensuring that we are an accessible and inclusive firm for people with disabilities, long-term health conditions, mental health conditions and those who are neurodiverse. One of our 15 employee networks is our neurodiversity network, which runs events and ensures best practice and understanding across the firm, as well as offering services such as performance coaching and mental health support.
In the recruitment team, we run Thrive events, which connect potential applicants with KPMG colleagues with similar backgrounds and experiences. The focus is all about being your authentic self at work and the support that's available. We also work with organisations such as MyPlus Consulting and Auticon.
At KPMG, sharing information about a condition won't impact your application. We ask candidates whether they require adjustments throughout the recruitment process to remove barriers so that all applicants are assessed on a level playing field. We will ask whether any adjustments are required before every element of the assessment process.
All adjustments are made on a case-by-case basis and tailored to the individual. Common adjustments include:
providing further information around the assessments beforehand so that candidates are comfortable with the process
providing an alternative method of assessment for the early online assessments – for example conducting a telephone interview instead
recruiters informing the interviewers/assessors of a condition so that a candidate doesn't have to: for example, some candidates wish the recruitment team to tell their interviewer that they have difficulty maintaining eye contact, so that the interviewer doesn't expect them to
providing additional breaks or extra time during the assessments or moving the breaks to avoid overwhelming the candidate.
Within the workplace, you can raise any conditions during the onboarding process or at any point during employment to your performance manager or performance leader. An occupational health assessment will help get you the support you need to perform at your best: this can include specialist software and equipment or ensuring that you get extra time in examinations for your professional qualifications.
At KPMG we will do what we can to ensure you can come as you are and thrive with us.
Read more about how KPMG hires and nurtures neurodivergent graduates (advertising feature) .
Rolls-Royce
Ellie Long, global inclusive hire and campaign lead at Rolls-Royce, told targetjobs…
'At Rolls-Royce, we aspire to be the world's leading industrial technology company, creating the vital power and propulsion solutions we need for a better future. In tackling those challenges, we need a broad variety of skills and ways of thinking. I'm often asked, "Who is the ideal Rolls-Royce candidate?" My answer is that there isn't one, because we don't want a cohort of graduates that are all the same as each other. Neurodivergent students and graduates add real value to our projects through their different ways of looking at the world and using their strengths to solve complex problems - we see this throughout our assessment process. Many neurodivergent people's strengths lie in the types of skills and characteristics we seek.
When it comes to our assessment process, we do make reasonable adjustments for neurominority candidates. Some of these include:
alternative ways to sitting online tests – for example, adjusting a test by removing the time limits or removing a test entirely.
ensuring all candidates have an assigned recruiter to whom they can confidentially express thoughts or concerns about any aspect of the process.
the chance to visit the assessment centre and meet Rolls-Royce colleagues before the real thing.
seeing the interview questions beforehand or talking through a test before completing it.
additional breaks throughout the day and/or the use of an independent break-out room.
These are just some of the things we can do to support applicants through the process, but options are not limited to this. Our approach is grounded in making whatever adjustments people need to be at their best, regardless of diagnosis.
Once they receive a job offer, we aim to get as much in place as we can before they start with us as an employee – whether this be quiet and independent spaces for them to work, ways to cancel out noise, or assistive technology. We also have lots of different inclusion networks, one of which is an abilities and neurodiversity group called OPEN. This is a network of employees with experience of a particular diagnosis or challenge who offer support and guidance to others within the organisation.
Our culture encourages an open and supportive environment where employees can be their true, authentic self and perform more confidently based on their strengths – but there is always work to be done. We encourage employees to have an open dialogue about what we can do to best support them - as an organisation we're working toward creating a truly neuro-inclusive culture with the support of our neurominority colleagues.'
Frequently asked questions about job hunting and neurodiversity
Jump to:
How do you work out what to do as a neurodivergent jobseeker?
In our experience, many students approach the job hunt in one of two ways. You could search for the employers that you like the sound of and see what jobs they have. Or you could work out what jobs you would like to do and look for the employers that offer those jobs. Both ways can lead to success. Whichever route you take, Ellie, who is neurodivergent herself, advises that it's important to consider where your passions lie: 'For neurodivergent job-seekers, it's really important think about what excites them, what gets them out of bed in the morning and what they want to be part of. We spend most of our life at work and so you've got to do something you enjoy. You don't want to be going into an environment where you've got to mask who you are because, trust me, it gets exhausting. You've got to be in a place where you're going to be happy. So really figure out what that looks like first.'
How do you look for employers that value neurodiverse applicants?
A good place to start your research is the employer's website. Look out for clues that they are supportive of neurodivergence. For example, do they have an employee network group? Do they support initiatives such as Autism Acceptance Week? Do they mention and talk about neurodiversity? For example, the Rolls-Royce 'Real Me' series of videos for apprentices and graduate's features neurodivergent employees. You could also chat to different employers at careers fairs to find out how they could support you or contact employers separately, for example through LinkedIn . Speaking to your careers service for their advice and perspectives is another effective way to get started. Use what you've found out about the employer to gauge whether you'd like to work for them. 'Really get to know the employer both before you apply and during the assessment process,' Ellie adds.' 'I had a student who came to me for advice when an employer was not very receptive when they mentioned they had autism, and my honest advice if this happens is: really think about if you want to apply. If you're not comfortable and you don't see yourself working there, don't put yourself through it. Lots of other organisations will be really supportive.'
Should you tell an employer that you are neurodivergent?
Disclosing a condition is always a personal choice and there may be many reasons why you might not choose to do so. However, it is important to think about what might happen if you don't tell the recruiter. You might find yourself disadvantaged on some of the assessments in comparison with neurotypical applicants and, as such, not be successful in getting a job you'd be perfect for – whereas if the employer made some adjustments (such as allotting you extra time to process written information in an online test) you would be assessed on a level playing field. An employer is legally required to make reasonable adjustments to a recruitment process to ensure that someone with a disability or a long-term health condition isn't at a disadvantage, but only if they could be reasonably expected to know.
'We don't push candidates to tell us about a condition, but we do encourage them to have an open dialogue with us about what we can do to assist them. It's our job to remove any barriers and make sure that everyone has an equal opportunity to demonstrate their strengths' Ellie confirms.
When and how do you disclose a condition to an employer (if you choose to)?
You can disclose at any point in the recruitment process or once you have started work, but it is advisable to have a conversation as early as possible to get things properly in place.
You can communicate with the appropriate person within the organisation – this might be a recruiter, a manager or someone within HR. This can be done by providing a short statement about the support you need and why. An example would be: 'I am dyslexic and so, to provide a realistic picture of my abilities, I require 25% additional time on any online assessments or be assessed in a different way.'
For some employers, you might choose to send an email or arrange a phone call, depending on what is comfortable for you. Some larger employers will have a section on their application form where you can disclose, if you choose to. You can check the employer's FAQs page for guidance on disclosing a condition or you could reach out (via phone or email) to the employer's graduate recruitment team for more information.
'On our online application form there is an opportunity to let us know about any additional support that you might require.' Ellie explains. 'All neurodivergent candidates are then assigned an individual recruiter, who will be there for additional support and advice on reasonable adjustments and any conversations about their condition – if and when they are ready to discuss it. The same recruiter will remain with the candidate for the entire assessment process and once they are employed, so they won't have to re-explain details of their condition to someone else.'
Find out more on how and when to tell an employer about a condition and see examples of statements in our disclosing a disability when applying for a graduate job article.
How can I succeed in the assessment centre and the workplace?
To succeed in the application process, we'd advise you to follow the advice we give to all applicants: to research the employer, to know the job description, to tailor an application (and proofread it!) and to prepare answers to common interview questions. Have confidence in your skills and abilities: 'During the recruitment process, focus on the things that you know that you're good at,' says Ellie. 'We know there will be things that you struggle with but there are things that everyone struggles with – come into the assessment process feeling like you can talk about who you are, what you do and what you're good at – because, trust me, you have got real strengths and these are the strengths that we want to see.' If you are feeling doubtful, do all you can to change your mindset – whether that's through reading memoirs or listening to inspiring speakers. 'Think "I've got skills, I've got values and I've got behaviours that big organisations such as Rolls-Royce really want",' says Ellie.
Take that mindset into the workplace. 'Play to your strengths – you might be that one person in the room that can spot something or see something that someone else in the room can't,' Ellie says. 'Have confidence in that.'
Watch our webinar on neurodivergence and job hunting: how to showcase your strengths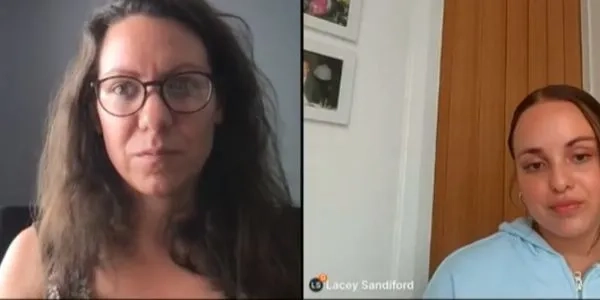 Join our panel of leading employers to gain insights on neurodivergence and job hunting.
Looking for an internship? Apply to the targetjobs' Undergraduate of the Year Award celebrating Neurodiverse Talent
The targetjobs Undergraduate of the Year Awards are a competition made up of 12 different awards that it is set up to find and celebrate the best undergraduates in the UK. It is open to students from across the UK and they can win prizes such as placements, internships and trips abroad.
Rolls-Royce is the partner for the Undergraduate of the Year Award celebrating Neurodiverse Talent – the award winner is granted a ten-week, paid summer internship and will also spend a day shadowing a Rolls-Royce leader. 'Now is the time for neurodiverse people. We wanted to recognise and celebrate the strengths that neurodiverse graduates bring', says Ellie.
Award finalists are also considered for paid work experience opportunities with Rolls-Royce: 'We interviewed 20 of the finalists and offered 11 of them internships, not just the winner, so the level of talent that has come through has been amazing', Ellie tells us.
Take a look at what makes a Rolls-Royce undergraduate of the year to find out more.
Article updated March 2023.
targetjobs editorial advice
This describes editorially independent and impartial content, which has been written and edited by the targetjobs content team. Any external contributors featuring in the article are in line with our non-advertorial policy, by which we mean that we do not promote one organisation over another.
People reading this also searched for roles in these areas:

We've got you
Get the latest jobs, internships, careers advice, courses and graduate events based on what's important to you. Start connecting directly with top employers today.